LDT 000104
Case LDT-01
The case consists of a lower and a upper cover. The printed circuit board shall be placed into the lower case. The upper case can be easily closed over the pc-board by snap locks. The connection clamps and the operating devices will be free accessible.
Dimensions: (length x width x height) 93 x 80 x 32mm.
The LDT-01 a practical and elegant case suitable for:
Turnout Decoder

1-DEC-DC

(from Version 2)

Motor-Turnout Decoder

M-DEC

(from Version 2)

Light-Signal Decoder

LS-DEC-DB, LS-DEC-DR, LS-DEC-KS, LS-DEC-ÖBB, LS-DEC-SBB, LS-DEC-NS, LS-DEC-NMBS, LS-DEC-BR, LS-DEC-FS, LS-DEC-SJ, LS-DEC-CFL

and

LS-DEC-USA

Train Influence Module

ZBM

Track Occupancy Detector

GBM-8

Booster Keep Separate Module

BTM-SG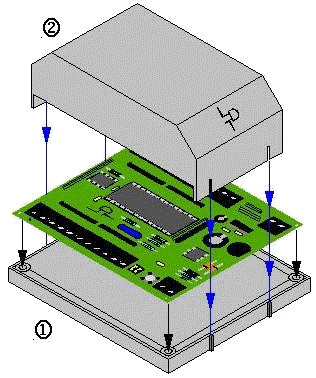 Each Case LDT-01 comes with a detailed installation instruction. There are labels for all relevant LDT-Components included for cutting out and sticking them onto the case for identification.