LDT 300211
Byggesæt
8-fold Feedback Module with integrated occupancy detector
for the RS-feedback bus (Lenz Digital plus) from the Digital-Professional-Series !
The feedback module RS-8 is a low priced LDT-component and is available as kit, as finished module in a case or as tested finished module.
Features of the RS-8
For the connection to the control units LZ100 or LZV100 of Lenz (up to 128 units or together with LR101 and LS110).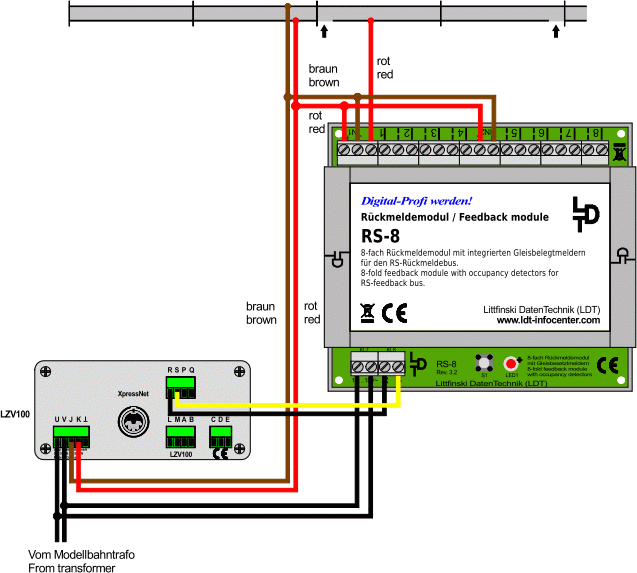 Suitable for the monitoring of 8 track sections with a current load up to 3 Ampere. A peak current up to 7 Ampere are temporary acceptable. Isolated rails or track sections to be monitored for occupancy will get simply the digital current via the output clamps of the feedback module. The track sections can be isolated as 1-pole or as 2-poles.

The

8-fold

track occupancy module

RS-8

is divided into

two 4-fold occupancy monitors

. This makes it possible to monitor

tracks of two different booster lines

. The devision into two 4-fold track monitors

simplifies

the

control of reversing loops

. More information about this issue can be found in the file "

Reversing loop monitoring

" at the download section.

Including voltage monitoring: is there no voltage at the tracks (e.g. after short circuit) the occupied status will be `frozen` during the interruption.

Track voltage and feedback bus are galvanically separated by opto couplings from the power supply.

The feedback modules

RS-8

can be

combined

with other feedback modules (

RS-16-O

, LR101 or LS110)

as required

.

Avaiable as ready to use

finished module

, as

finished module in a case

or as a

kit

on a 110x96mm pc-board with 4 bores for assembly purposes (suitable enpty case as

LDT-02

for kits from version 3.2 and assembly material can be found under

accessories

).

Components from the Digital-Professional-Series can be operated on your digital system without any problem. The RS-8 is compatible to the used RS-feedback bus.

The finished module and the finished module in a case comes with 24 month warranty.

Each feedback module RS-8 will be supplied with a detailed operating-/respectively assembly-instruction. Those instructions can be found within the next section.